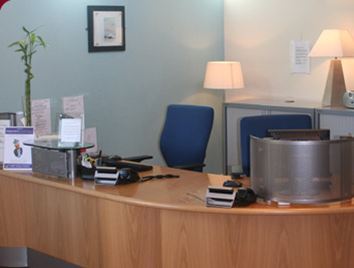 Attractive Spacious Consulting Rooms – available to rent
Would you like to practice in Cardiff but have found the expense and commitment involved in taking a lease on your own consulting room prohibitive? Then CCR has the solution for you.
Use our consulting room facilities on an ad hoc or sessional basis
If you're just starting your business or see a small number of clients a month in Cardiff, then why not join CCR. We provide an attractive alternative to renting your own office space, which will save you time and money. Just choose the session/sessions to suit your needs and then use the consulting room to see your patients at your convenience.
Costs are very competitive and much more cost effective than leasing rooms permanently, where they may stand empty for long periods of time.
CCR - A Centre of Medical Excellence
If you're a medical practitioner, consultant, complementary or alternative health practitioner or from another profession who wishes to see patients in South Wales – CCR is the ideal solution with a number of comfortable consulting rooms and two minor procedure rooms, each fully equipped and maintained to the highest standard. In addition, CCR is registered by the Healthcare Inspectorate for Wales ensuring that the very highest standards of care are maintained.
Our experienced team liaise seamlessly with patients, doctors, medical secretaries and hospitals to ensure a professional and flexible service. Our facility is augmented by a reliable computerised appointment and referral system, optimum consulting room availability, careful patient record maintenance and accounts efficiency. An equal level of care and attention is given to the needs of visiting consultants. We recognise the importance of their time.
We provide to all our consultants:
An excellent administrative team
Hourly flexibility and availability
Prompt telephone answering service
Convenient parking
Medico Legal Services
Consultants at Cyncoed Consulting Rooms have quickly built a reputation as being one of the leading providers of medico-legal services in the region. By choosing to instruct a Consultant from Cyncoed Consulting Rooms you are assured of a speedy efficient service.
In addition, we have provided rooms for visiting medico-legal consultants from across the UK; providing excellent facilities for medical professionals to undertake consultations in a relaxed and professional environment.
Services for GPs
We are delighted to have built an excellent relationship with GPs across South Wales and beyond. Many GPs refer direct to CCR because they prefer the very personal private service we provide.
If you're a GP and wish to refer a patient you can be sure that they will receive the highest quality of care and service. The benefits of using CCR include:
Most specialities available
Friendly, efficient staff
Free Parking
Comfortable and relaxed environment
We answer the phone!